---

The truths we hold : an American journey / Kamala Harris ; adapted for young readers for Ruby Shamir.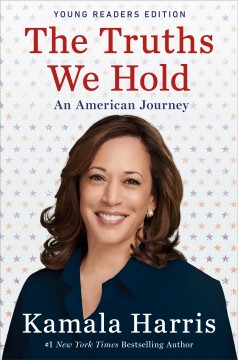 Available copies
Current holds
0 current holds with 1 total copy.
Summary:
The autobiographical memoir of the first woman, African American, and South Asian American to become attorney general of the State of California, and the second black woman ever elected to the United States Senate. Harris discusses the impact that her family and community had on her life, and how she came to discover her own sense of self and purpose.
View other formats and editions
Location
Call Number / Copy Notes
Barcode
Shelving Location
Circulation Modifier
Age Hold Protection
Active/Create Date
Status
Due Date

Milton-Freewater Public Library

328.73092 Harri

(Text)
37862000471680

Adult Non-Fiction

Book
Branch_Only_3months
12/21/2020
Available
-
Record details
ISBN:

9781984837066

ISBN:

1984837060

Physical Description:

xv, 288 pages, 8 unnumbered pages of plates : illustrations ; 22 cm

Edition:

Young readers edition.

Publisher:

New York :

Philomel Books,

2019.
Content descriptions
| | |
| --- | --- |
| General Note: | Edition statement from the dust jacket. |
| Bibliography, etc. Note: | Includes bibliographical references (pages 267-281) and index. |
| Summary, etc.: | The autobiographical memoir of the first woman, African American, and South Asian American to become attorney general of the State of California, and the second black woman ever elected to the United States Senate. Harris discusses the impact that her family and community had on her life, and how she came to discover her own sense of self and purpose. |
Search for related items by subject
LDR
04149cam a2200541 i 4500
001
2267196
003
SAGE
005
20210304172125.0
008
190419s2019 nyua j b 001 0beng
010

.

‡a

2019019034
019

.

‡a

1099486907
020

.

‡a

9781984837066

‡q

(hardcover)
020

.

‡a

1984837060

‡q

(hardcover)
020

.

‡z

9780593113165 (e-book)
035

.

‡a

(OCoLC)1098232295

‡z

(OCoLC)1099486907
042

.

‡a

pcc
043

.

‡a

n-us---

‡a

n-us-ca
040

.

‡a

DLC

‡b

eng

‡e

rda

‡c

DLC

‡d

FBR

‡d

GO4

‡d

NYP

‡d

OCLCF

‡d

NZAUC

‡d

OCLCO

‡d

OCL
050
0
0

.

‡a

E901.1.H37

‡b

A3 2019
082
0
0

.

‡a

328.73/092

‡a

B

‡2

23
100
1

.

‡a

Harris, Kamala,

‡d

1964-

‡0

http://id.loc.gov/authorities/names/n2009045056

‡e

author.
245
1
4

.

‡a

The truths we hold :

‡b

an American journey /

‡c

Kamala Harris ; adapted for young readers for Ruby Shamir.
250

.

‡a

Young readers edition.
264
1

.

‡a

New York :

‡b

Philomel Books,

‡c

2019.
300

.

‡a

xv, 288 pages, 8 unnumbered pages of plates :

‡b

illustrations ;

‡c

22 cm
336

.

‡a

text

‡b

txt

‡2

rdacontent
337

.

‡a

unmediated

‡b

n

‡2

rdamedia
338

.

‡a

volume

‡b

nc

‡2

rdacarrier
385

.

‡n

age

‡a

Children

‡2

lcdgt
500

.

‡a

Edition statement from the dust jacket.
504

.

‡a

Includes bibliographical references (pages 267-281) and index.
520

.

‡a

The autobiographical memoir of the first woman, African American, and South Asian American to become attorney general of the State of California, and the second black woman ever elected to the United States Senate. Harris discusses the impact that her family and community had on her life, and how she came to discover her own sense of self and purpose.
600
1
0

.

‡a

Harris, Kamala,

‡d

1964-

‡0

http://id.loc.gov/authorities/names/n2009045056

‡v

Juvenile literature.

‡0

http://id.loc.gov/authorities/subjects/sh99001674
600
1
0

.

‡a

Harris, Kamala,

‡d

1964-

‡0

http://id.loc.gov/authorities/names/n2009045056

‡x

Political and social views

‡0

http://id.loc.gov/authorities/subjects/sh2002011435

‡v

Juvenile literature.

‡0

http://id.loc.gov/authorities/subjects/sh99001674
610
1
0

.

‡a

United States.

‡b

Congress.

‡b

Senate

‡0

http://id.loc.gov/authorities/names/n79022161

‡v

Biography

‡0

http://id.loc.gov/authorities/subjects/sh99001237

‡v

Juvenile literature.

‡0

http://id.loc.gov/authorities/subjects/sh99001674
650
0

.

‡a

National characteristics, American

‡0

http://id.loc.gov/authorities/subjects/sh85089950

‡v

Juvenile literature.

‡0

http://id.loc.gov/authorities/subjects/sh99001674
650
0

.

‡a

Justice, Administration of

‡x

Political aspects

‡z

United States

‡0

http://id.loc.gov/authorities/subjects/sh2009128001

‡v

Juvenile literature.

‡0

http://id.loc.gov/authorities/subjects/sh99001674
650
0

.

‡a

African American women legislators

‡0

http://id.loc.gov/authorities/subjects/sh95004290

‡v

Biography

‡0

http://id.loc.gov/authorities/subjects/sh99001237

‡v

Juvenile literature.

‡0

http://id.loc.gov/authorities/subjects/sh99001674
650
0

.

‡a

Legislators

‡z

United States

‡v

Biography

‡v

Juvenile literature.

‡0

http://id.loc.gov/authorities/subjects/sh2008106902
650
0

.

‡a

Public prosecutors

‡0

http://id.loc.gov/authorities/subjects/sh85108746

‡z

California

‡z

San Francisco

‡0

http://id.loc.gov/authorities/names/n79018452

‡v

Biography

‡0

http://id.loc.gov/authorities/subjects/sh99001237

‡v

Juvenile literature.

‡0

http://id.loc.gov/authorities/subjects/sh99001674
650
0

.

‡a

Attorneys general

‡0

http://id.loc.gov/authorities/subjects/sh85009414

‡z

California

‡0

http://id.loc.gov/authorities/names/n79041717

‡v

Biography

‡0

http://id.loc.gov/authorities/subjects/sh99001237

‡v

Juvenile literature.

‡0

http://id.loc.gov/authorities/subjects/sh99001674
651
0

.

‡a

United States

‡x

Politics and government

‡x

Philosophy

‡0

http://id.loc.gov/authorities/subjects/sh2007100042

‡v

Juvenile literature.

‡0

http://id.loc.gov/authorities/subjects/sh99001674
655
7

.

‡a

Autobiographies.

‡2

lcgft

‡0

http://id.loc.gov/authorities/genreForms/gf2014026047
655
7

.

‡a

Biographies.

‡2

lcgft

‡0

http://id.loc.gov/authorities/genreForms/gf2014026049
700
1

.

‡a

Shamir, Ruby,

‡0

http://id.loc.gov/authorities/names/n2016012052

‡e

author.
902

.

‡a

MARCIVE 012021
999

.

‡e

Book
901

.

‡a

1098232295

‡b

OCoLC

‡c

2267196

‡t

biblio